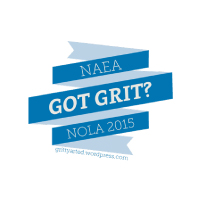 On Thursday and Friday of last week, I was attending the annual convention of the National Art Education Association. I flew down to New Orleans after school on Wednesday and returned on Saturday night.
I was busy presenting three sessions, two of which were with my colleague from the high school, Ms. Fine. The third, in conjunction with the Middle Level Division, was a chance to share one of my units with colleagues from across the country.
The big news out of the conference: I'm now officially the Middle Level Director-elect. This means, for the next two years, I'll be preparing for a two-year tenure as director. I'll be able to work with art education leadership, participate in conversations about the direction of our field, and support/herald the work of talented middle level educators from across the country!
Presentation 1: Getting Gritty
Getting Gritty: Resilience and Confidence in the Art Room
The freedom to create can be immobilizing for special populations. Develop strategies for creating an inclusive classroom culture that encourages experimentation, celebrates messiness, and gets gritty. Best Practice Lecture
Convention Center/Meeting Room 223/Second Level
Presentation 2: Middle Level Medley
A variety of inspiring ideas from the Middle Level Division and Leadership Team will be presented from the unique perspective of the middle level learner and teacher. Best Practice Lecture
Convention Center/Meeting Room 216/Second Level
Presentation 3: Debunking the Digital Divide
Navigating the digital divide in hands-on art environments can be challenging; bridge this gap by exploring digital tools that enhance traditional studio experiences. Interactive Discussion
Convention Center/Meeting Room 221/Second Level